crane work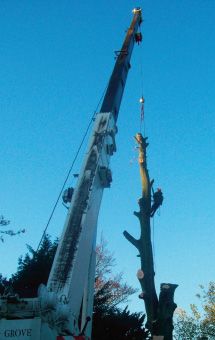 Crane work is the fastest most cost effective way to take down large and dangerous trees and road-side trees, because of the speed in which you can dismantle a tree this reduces the congestion of traffic.
Lack of access can also be resolved as you can crane lift over buildings etc. The crane we use is a truck mounted crane GROVE TMF 635 with a lift capacity of 30 ton, a 32m boom and a driver that has 27 years experience on trees alone and is fully insured.
We have used this crane for Worcester Highways, Redditch Borough Council, Bromsgrove District Council, Hospitals (Priory Birmingham) and private work.