stump grinding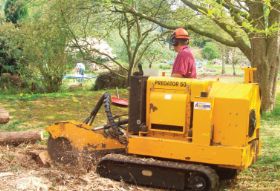 Stump Grinding is one of the quickest and easiest ways to remove unwanted stumps from the ground it reduces land disturbance which may affect foundations, driveways, wildlife and other trees etc. It also reduces the amount of waste as oppose to digging it out and being left with the stump and roots to dispose of, which reduces the removal and tipping costs.

Stump grinding is perfect for removing stumps for laying driveways, erecting fencing and reducing waste on building sites etc. We have three different types of stump grinder for all access and all types of work.

Rayco this is the smallest of our stump grinder's easily manoeuvrable can be lifted over walls, up steps and even pushed through restricted access areas such as houses and doorways.

Predator 26 our medium size stump grinder fit through doorways, gates etc on variable tracks to make it easy accessible to all areas and giving it stability.

Predator R50T the biggest of our stump grinders this machine will take out any size stump in a matter of minutes it highly manoeuvrable and will take on any terrain.